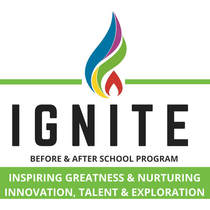 Scintilla Charter Academy is proud to offer the IGNITE Before & After School Programs.  These fee-based programs are administered by the school and operated by our faculty and staff. The IGNITE Director is Kelsi Holmes: kholmes@scintillacharteracademy.com.
The goal of IGNITE is to build on the school's focus of interactive, hands-on projects that spark curiosity, promote active learning, encourage teamwork, build character, and capitalize on children's innate spirit of exploration.
IGNITE stands for Inspiring Greatness by Nurturing Innovation, Talent & Exploration!