Lower School Uniform Policy: Grades K-5
Bottoms: khaki or navy blue skirts, shorts, skorts, pants, or jumpers
Tops:

Monday – red embroidered collared polo shirt
Tuesday – gray embroidered collared polo shirt
Wednesday – navy embroidered blue collared polo shirt
Thursday – light blue embroidered collared polo shirt
Friday – SCA Spirit Wear (may be purchased from approved uniform vendors listed below)
The school logo is required on all polo shirts.  Scholars may wear any type of shoes with their uniforms but should wear athletic shoes on the day they have physical education.
Middle/Upper School Uniform Policy: Grades 6-9
In middle and upper school, scholars are allowed to wear SCA Spirit Wear every day and are not required to wear the uniform polo shirts required in grades K-5. Middle and upper school scholars are required to purchase one red polo with the Spartan logo. Middle and upper school scholars are required to wear the red Spartan polo for special events, field work opportunities, etc. Ninth grade scholars are allowed to dress out of uniform on Mondays as long as the attire meets SCA dress code requirements.
Tops: approved SCA or Spartan Spirit Wear t-shirts, polos, or sweatshirt options purchased through an SCA-approved vendor
Bottoms: khakis, jeans (with no rips, tears, or emblems), or black, gray, white, or red athletic shorts or pants
Special Events:

red polo with Spartan logo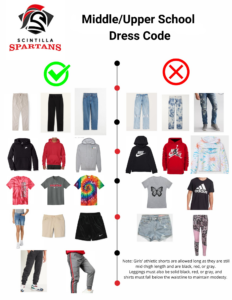 Spartan Spirit Wear is available in the Spartan Spirit Store. If you purchase your shirts from an outside source, Arrow Screen Printing and Ink & Cotton offer embroidery on items you provide to them. Contact the vendors with specific questions.
All uniforms must be embroidered with proper school logos.  However, SCA's standing policy is to mitigate any financial obligation for those families for whom this presents an undue hardship.   Parents and/or guardians who have concerns about the affordability of a school uniform should contact Keri Wilkin kwilkin@scintillacharteracademy.com and we will work with the family to offer assistance.